SUHELI CAMP DUDHWA NATIONAL PARK & KOTWARA
| | |
| --- | --- |
| Tour availability | : January to March 2015 |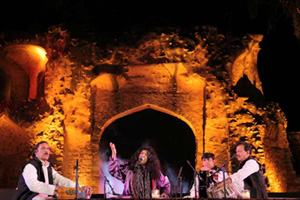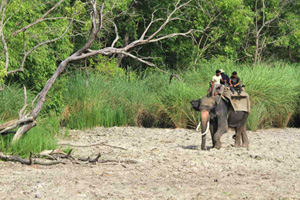 This nomadic Super-Luxury Camp introduces the discerning travellers to the unexplored destinations of Dudhwa National Park, along with the subtle elegance of the 18th & 19th century nawabs (feudatory-chieftains) of Awadh well known for their refined culture, palaces & cuisines, at Kotwara . It is an extraordinary juxtaposition of rugged countryside, wildlife and royal splendors of a bygone era!
Your travel begins with arrival in Lucknow and transfer of about 4 hours to Suheli Camp located in the buffer zone and an elephant corridor. The next two days will see you amongst the high & thickly forested Sal trees where the sun rays hardly find penetration, teeming with wildlife including the Swamp deer or Bara Singha (12 antlered deer), Sloth bear, civets, fishing cat and the more elusive leopards and tigers. The bird life is phenomenal.
The Tharu tribal dwellings, which shall be visited, known for basket weaving and tool making skills, dot the landscape.
A two hours drive from the jungles of Dudhwa, takes you to enjoy the regal living of Kotwara Terai Camp, Awadh. Here you will be guests of the painter and Bollywood filmmaker Raja Muzaffar Ali, the scion of the Kotwara family. The Raja has revived the traditional textiles of Kotwara. Witness the art of 'durrie' (rug) weaving, chikan embroidery or order your own selection of durries and bespoke lucknawi attire!
Finally, a Gala dinner at the palace with sufi music rendered by local musicians, cuisine focused on slow-cooked Awadhi recipes, before you bid farewell to the land of genteel living!
Please get in touch with us for a detailed itinerary. Click here