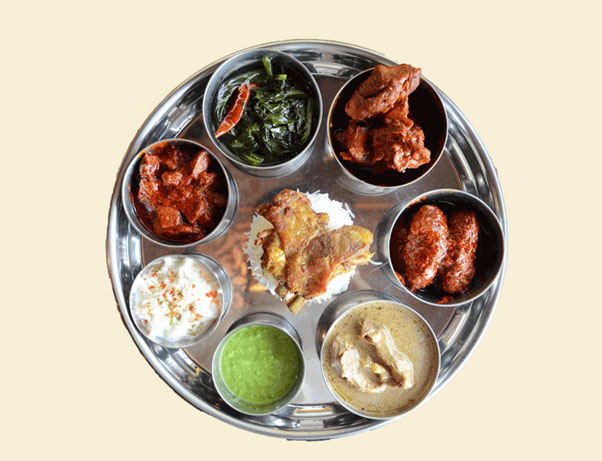 The Indian Thali, draws heavily on the ancient Hindu practice of Ayurveda, which emphases on the holistic power of food. A good old-fashioned Thali local thali will not only contain which is wholesome, well-presented but also give the cue as to how it is to be eaten.
The humble everyday fare of common masses reflects the cultural ethos of a particular region. A great example of this concept are the Thalis of Kashmir, which represent the two dominant cultures.
While the Kashmiri Pandits Thali, of a Brahmin household, like all their pan-India brethren eschew use of garlic & ginger, it contains the meat dishes very well appreciated by the Kashmir Pandit. Immense flavours are imparted by the liberal use of spice powders.
On the contrary, the Kashmir moslem thali makes full use of the ginger-garlic paste!
The Kumaoni Thali is based on the scent of the pine tree and every bite of it will remind the connoisseur of his mountainous location.
Similarly, the Goanese, Keralan, Konkani, &Malvani Thali is dominated by the coastal sea foods, coconut and the spices found abundant on the western ghats and the spice plantations of the Deccan!
For those of the connoisseurs, who wish to partake of the finest Mughal foods, the Awadh & Hyderabad cuisines steal the show. These are slow cooked foods with fine delicate tastes and aromas.
The Awadhi (of Lucknow) Dastarkhwan (Dinner), is not complete unless it has the following dishes: Kebabs (roast or fried meats), Kormas (thick gravy), Salan (gravies), Keema (mince meat), aromatic pulaos, Dal (lentils) &Pasandas (soft lamb). Lucknow is known for its pulaos. The main dishes are served with a variety of breads, the roti, parathas, & the naans. The desserts follow in the form of Kheer, Sheer, Muzaffars (rice-milk puddings), and Halwas, all of a wide variety. And finally, the food is served in fine china and water sipped in silver tumblers.
The famous Hyderabadi cuisine of the local moslem population, draws heavily on the amalgamation of such traditions as those of Mighals, Turkish and the Arabic, tempered by the local Deccani influence. Hyderabad cuisine has different recipes for different occasions.
A Hyderabad Dastarkhwan is usually five-course – Aghaz (soup), Mezban (appetizers), Waqfa (sorbet), Mashgool (main), and Zauq-e-shahi (desserts). The most popular of all Hyderabad dishes is the Biryani. It is the celebration dish of the Nizams and is made of layered rice and mutton, served along with finely tempered yoghurts, onions and various spices.
Some of the finest restaurants, serving these delicacies can easily be incorporated into your Tour Itinerary. You may very kindly get in touch with Legends & Palaces to experience the finest of the Indian food.